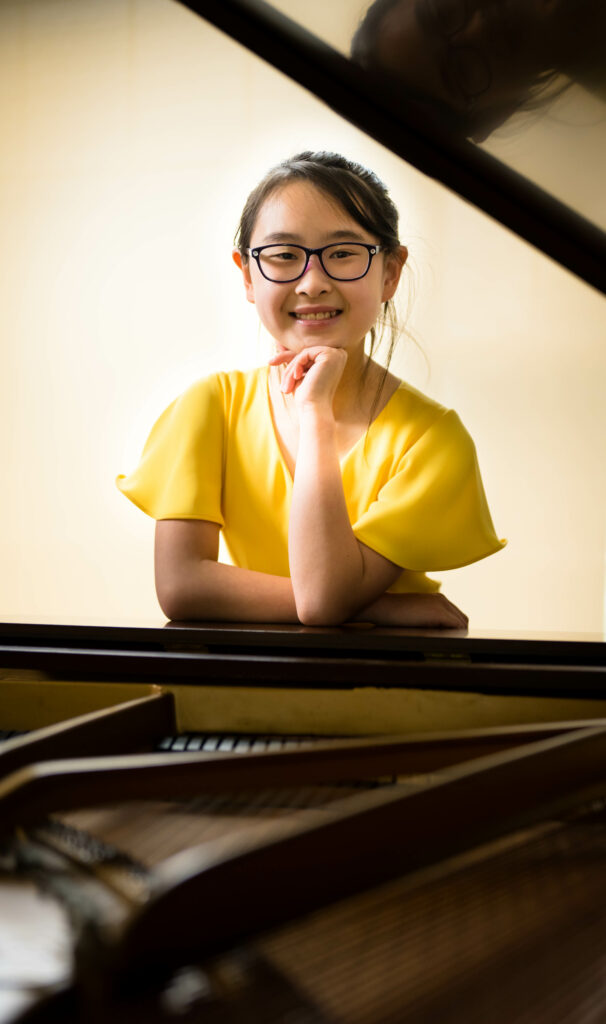 Division II : First Place – Chloe Tan
Student of Gregg Pauley
Twelve-year-old Chloe Tan expressed an early interest in piano and has been studying piano with Gregg Pauley since age 4 in Newmarket, NH. She has been competing from age 8  and has been top prize winner in the Granite State Competition in New Hampshire for 3 years in a row, awarded first prize last year. She also competed in Young Artists Piano Competition in Westfield State University, Westfield, Massachusetts last year where she again won first prize in her category.  

In the past, she has had the good fortune of attending masterclasses with Ilana Vered, Sasha Starcevich and Sonja Ovrutsky Fensome. In 2019, Chloe attended Music Fest Perugia in Perugia, Italy where she played for world-class pianists Ilana Vered, Marina Lomazov, Nino Merabishvili and Yoonie Han. As the youngest participant, Chloe performed the Mozart Piano Concerto in C Major, K 467 with the Virtuosi Brunensis of the Czech Republic and was a featured performer in a special masterclass on Chopin Etudes presented by Ilana Vered.

In 2018, in her first Steinway Society of Massachusetts competition, she was awarded first prize in the 1st Division and got to play at the historic Boston Symphony Hall for her winner's recital. Over the summer as COVID disrupted a lot of on-site competitions, thanks to M. Steinert and Sons and SSOMA she was still fortunate to be able to compete virtually. She was awarded first prize, this time in the 2nd Division. Praised by the competition adjudicators for her musicianship and originality, mature and sensitive performance, wonderful tonal control and intelligent playing, and a "very elegant and expressive player", Chloe continues to progress and is "on her way to becoming an excellent musician".

Chloe attends 7th grade at Portsmouth Christian School in Dover, NH and is their piano accompanist for Junior High Chorus and Chapel Team. Her interests include writing, reading and performing arts. Her favorite pastimes are chatting online with close friends, drawing, diamond painting and having fun with her younger sister. She continues to study piano with Gregg Pauley and attends the New England Conservatory Prep School Piano Seminar program with A. Ramon Rivera.