Presenting a series of Concerts in Cooperation with M. Steinert & Sons
Thursday, July 8, 2021
THEODORE TENG
On Thursday, July 8, 2021 Theodore Teng, the 2019 Steinway Society Young Artist of the Year will present a program of J.S. Bach, Chopin, Albeniz, and Franck.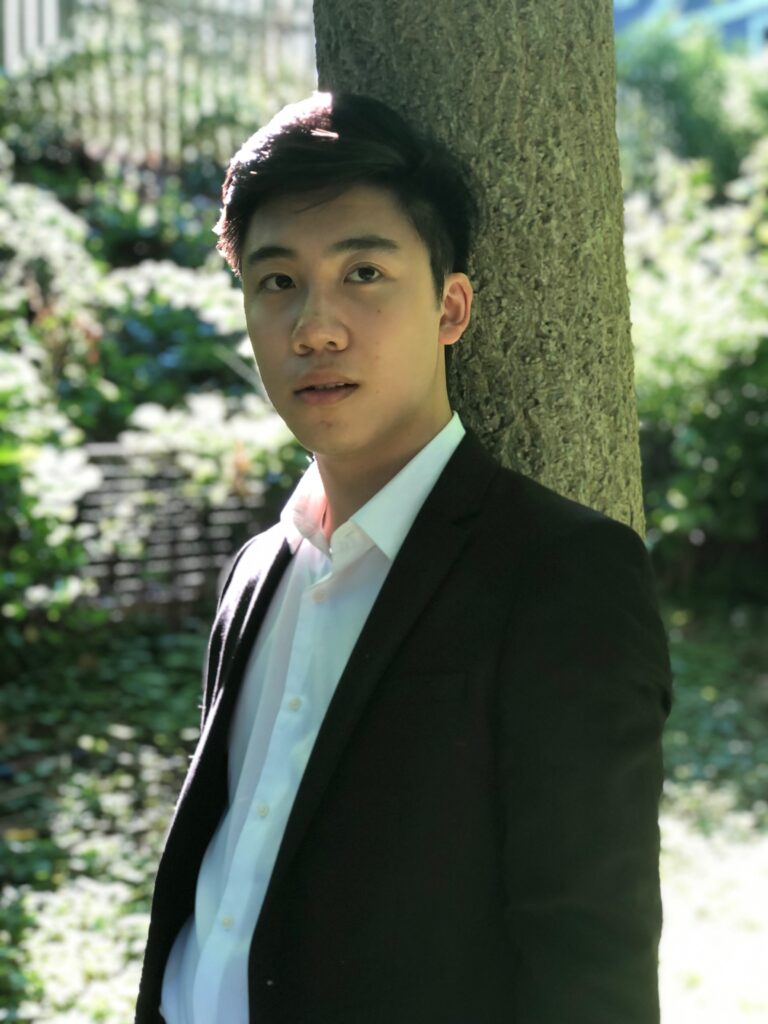 Theodore Teng, age 17, strives to bring his listeners along an intimate journey through the vivid imagery of each work he performs. The classical music provided by his three older siblings inspired him to begin playing the piano, and he quickly grew attached to the instrument's capability to communicate and express himself to others. He is a student of A. Ramón Rivera, whom he began studying with at the age of five, and Erin Lindsey at the New England Conservatory Preparatory School and The Rivers School Conservatory.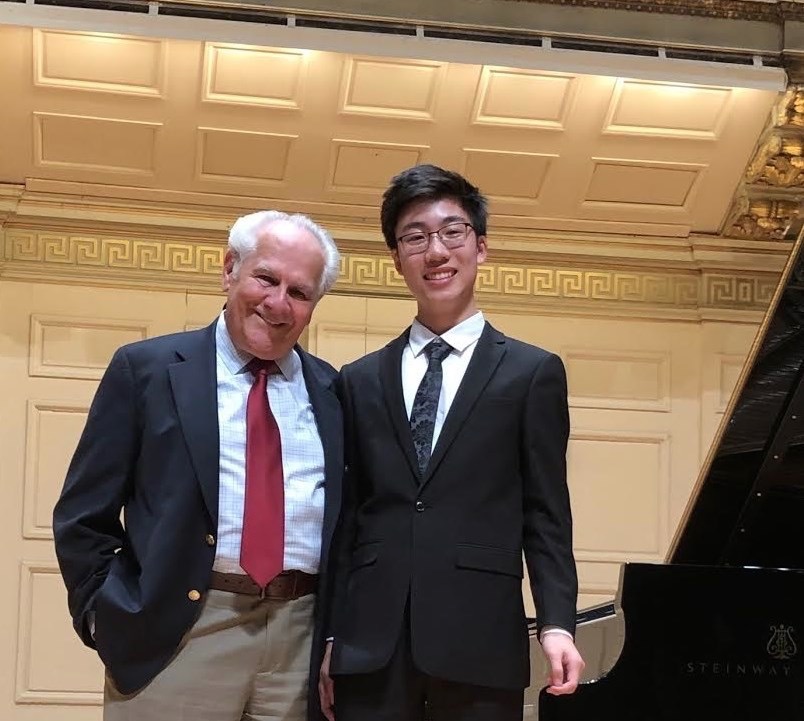 Theo has earned top prizes at various competitions, including first prize at the Rivers Symphony Concerto Competition (twice), the International Paderewski Piano Competition, the A. Ramón Rivera Piano Competition, and awards at the Steinway Junior Piano Competition, the MMTA Bay State Piano Contest, and the Young Artist Piano Competition. These titles have led him to performances in venues such as Boston's Jordan Hall and Symphony Hall. Theo also had the honor of attending the Boston University Tanglewood Institute Young Artists Piano Program in 2019 and the Foundation for Chinese Performing Arts Music Festival at Walnut Hill in 2018 and 2016. He is currently a member of the acclaimed NEC Prep Piano Seminars.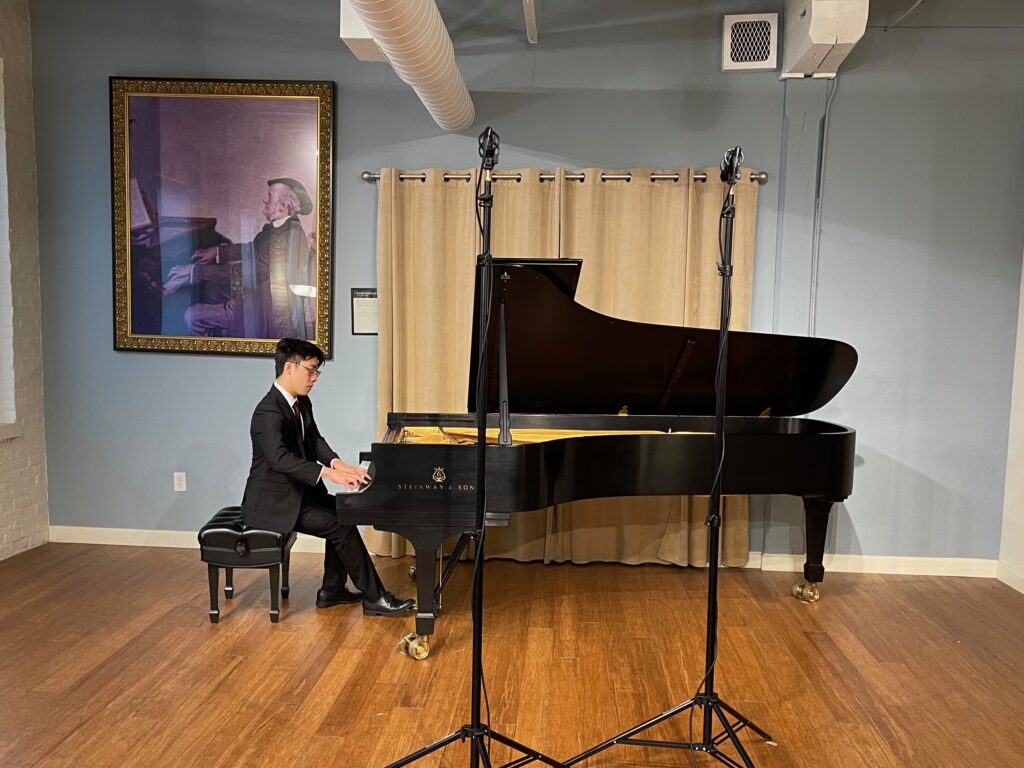 An enthusiastic performer of contemporary music, Theo has premiered compositions by Dr. Larry Thomas Bell, Dianne Goolkasian Rahbee, Robert Paterson, and the 2018 MacArthur Fellow Matthew Aucoin at the annual Rivers Seminar on Contemporary Music. Currently, Theo is a rising senior at the Roxbury Latin School in Boston, Massachusetts. In addition to performing solo repertoire, he enjoys playing chamber music with friends, transposing movie and video game soundtracks for the piano, and competing as a member of the school cross country and debate teams. He also leads the Roxbury Latin Piano Seminars, a group that he created to encourage collaboration and discussion among the numerous talented pianists at the school. An aspiring architect, Theo wishes to design structures that will change people's lives in the same way that music has changed his own.
____________________________________________
Thursday, June 10, 2021
LOGAN SHERWIN
On Thursday, June 10, 2021 Young Artist, Logan Sherwin will present a program of Beethoven, Chopin and several of his original works for piano.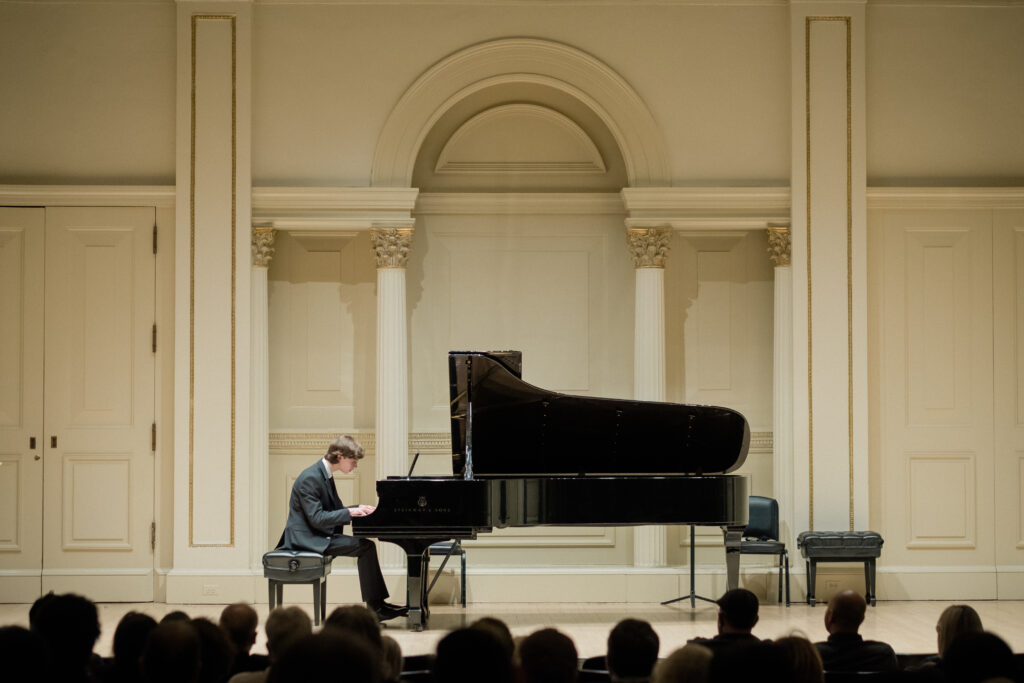 Logan Sherwin, an aspiring young pianist and composer, was born and grew up in the Boston area. Coming from a family that gave him a wide exposure to many musical styles, his love for music began at an early age. Although he didn't start piano until he was nearly eight years old, he quickly developed a passion for playing and sharing music and was performing in public in just under two years.
Later, Logan began taking private lessons from internationally acclaimed pianist and pedagogue, Sonya Ovrutsky Fensome, director of the M. Steinert and Sons Piano Academy. Her nurturing teaching style has opened new horizons for Logan in so many ways, bringing his understanding of music to a whole new level, both technically and artistically. Logan was accepted to the New England Conservatory Prep School both as a pianist and as a composer. There he participated in piano seminars led by highly acclaimed pedagogue A. Ramón Rivera, and regularly attended masterclasses for piano and composition. He was also a member of the young composers' chamber group led by the chairman of NEC Prep's composition department Dr. John Rodney Lister and was invited to perform his compositions in the NEC Contemporary Music Festival.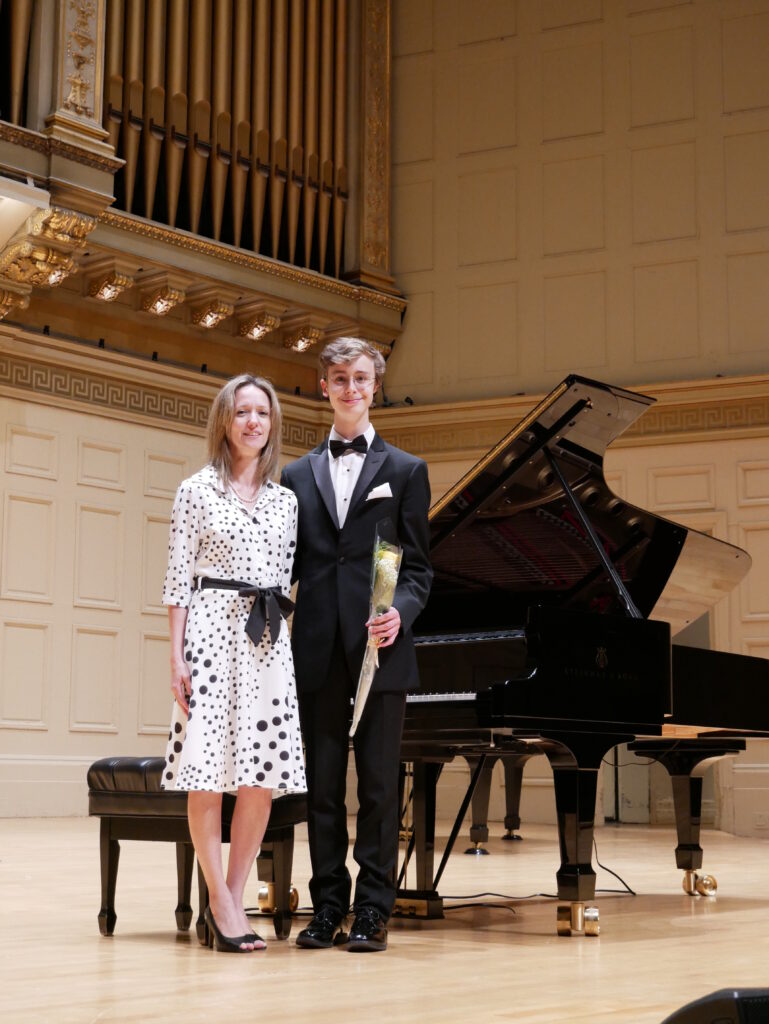 Logan's numerous competition credits have led him to play in prestigious venues such as NYC Carnegie Hall, Boston Symphony Hall, and the Prague Conservatory. In the past few years, he has been a top winner in the Steinway Society of Massachusetts Piano Competition, won first prize in the MMTA Bay State Piano Competition, became a laureate of the Prague Conservatory International Piano Competition, and took first place in the Soloists of New England (SONE) Piano Competition.

In the summer of 2020, Logan was accepted to Curtis Institute of Music's Young Artist Summer Program, where he was honored to be chosen as one of only four to participate in a masterclass with world-renowned pianist Emanuel Ax. He was privileged to work with the Curtis Summer Program's world-renowned faculty members including Anna Polonsky and Amy Yang. Driven by Ms. Yang's passion for teaching and performing, he continues to work with her to this day. She has inspired Logan to ask questions and listen to music from new perspectives and challenged him to find new meaning and forms of expression.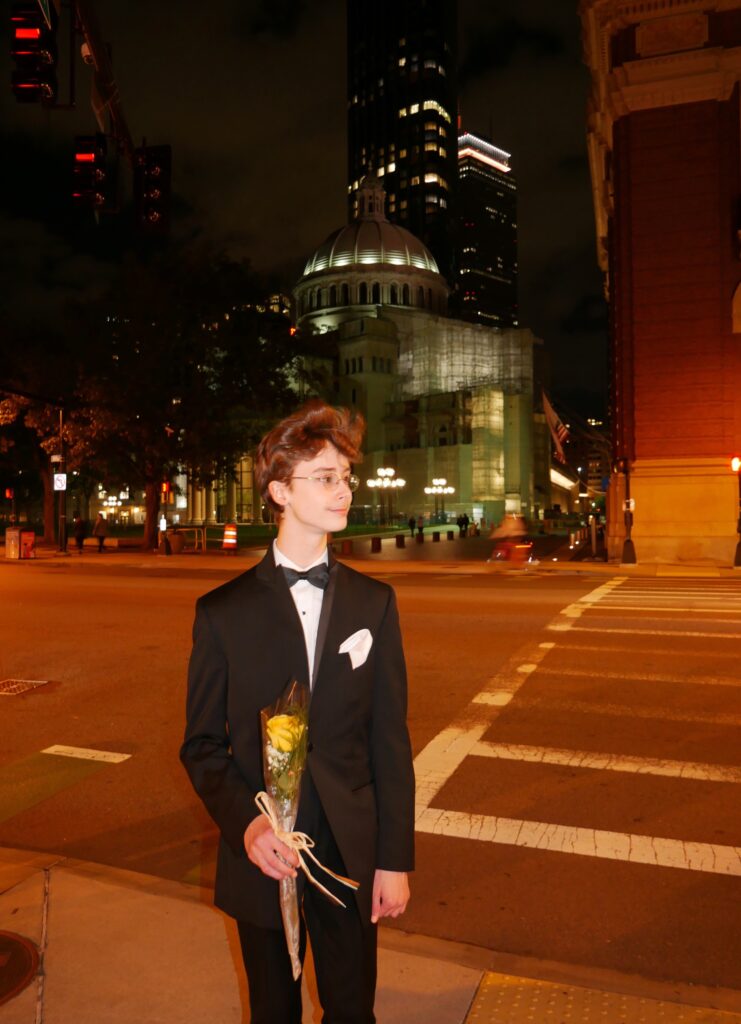 During the pandemic, Logan has continued to perform in virtual venues.
His uploads inspire followers on YouTube and Instagram.
Outside of music, Logan's biggest passion is linguistics. He likes to study languages' roots, history, and evolution in-depth. He especially enjoys studying a wide spectrum of endangered languages, or ones that have recently become extinct and potentially could be revived and spoken once more. In the meantime, he contributes by editing and writing Wikipedia articles on the subject of endangered languages and linguistics in general. Recently, he has been contributing to Wikipedia articles on the Evenki language, a Tungusic language from Siberia (Russia and Northern China). He is passionate about one day doing as much as he can to promote multilingualism and helping all languages thrive.
___________________________________
Thursday, May 13, 2021
RASA VITKAUSKAITE WITH ALEKSANDR POLYAKOV
On Thursday, May 13, 2021 Steinway Artist, Rasa Vitkauskaite with Aleksandr Polyakov will present a program of excerpts from her latest album of Mozart and Beethoven Concertos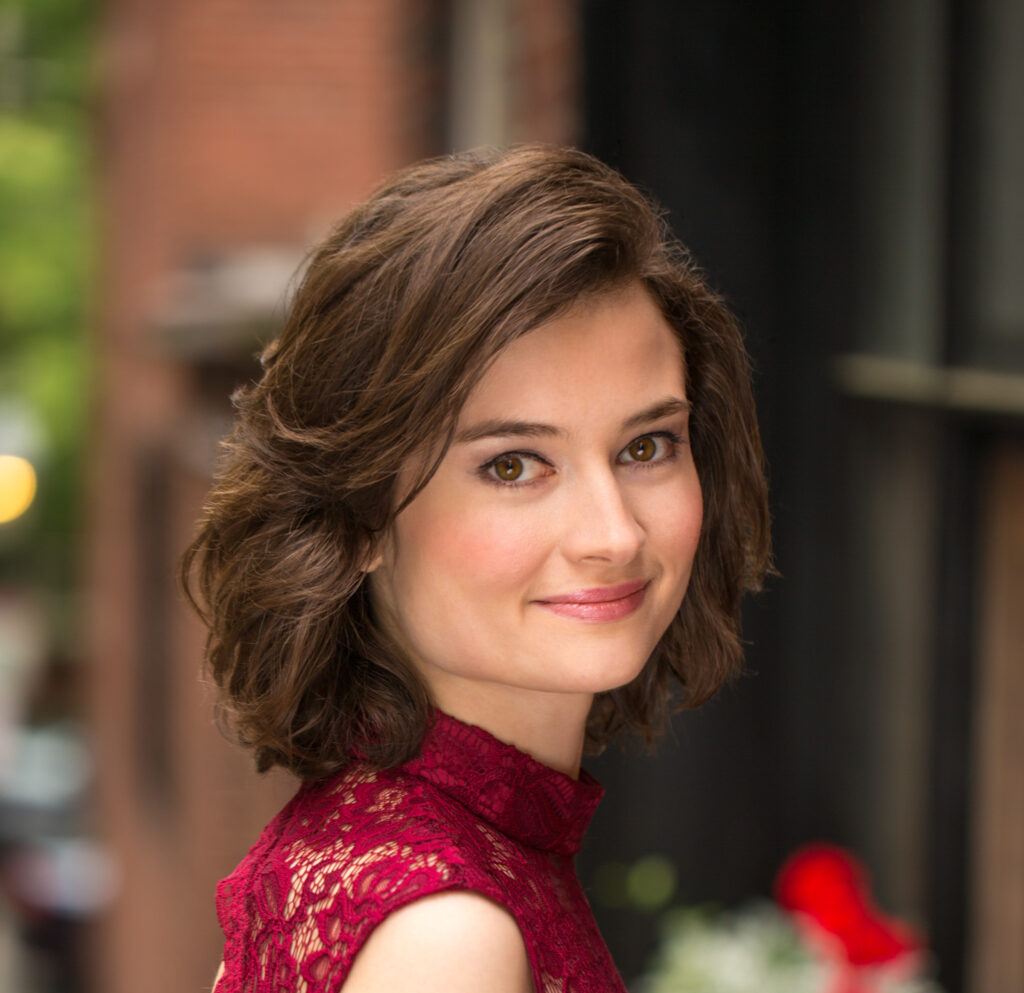 Internationally acclaimed multiple prize-winning Lithuanian pianist Rasa Vitkauskaite has been hailed for "artistry of poetic and observant sensitivity" (Gramophone) and dubbed as "a Beethoven interpreter of penetrating insight" (Fanfare). She is quickly establishing herself as one of the leading recording artists of her generation. Her latest CD including Mozart Concerto No. 20 in D Minor and Beethoven Concerto No. 3 in C Minor was praised as comparable to Rudolf Serkin and the New York Philharmonic. Rasa released her debut solo CD Reflections on Ongaku Records in 2014, featuring works by Beethoven, Ravel, Guastavino and Liebermann. Fanfare highlighted the release on its cover, praising her "scintillating pianism." Her debut recording as soloist with orchestra performing Liszt/Weber Polonaise brillante recorded at the Hungarian National Radio was released as a digital single in 2016. Last season featured a solo recital on the prestigious Dame Myra Hess Memorial Concert Series in the Chicago Cultural Center that was broadcast live on WFMT radio and hundreds of affiliated stations nationwide. Next season will highlight Rasa's recording of Mendelssohn Double Concerto with Tchaikovsky Gold Medal violinist Ilya Kaler.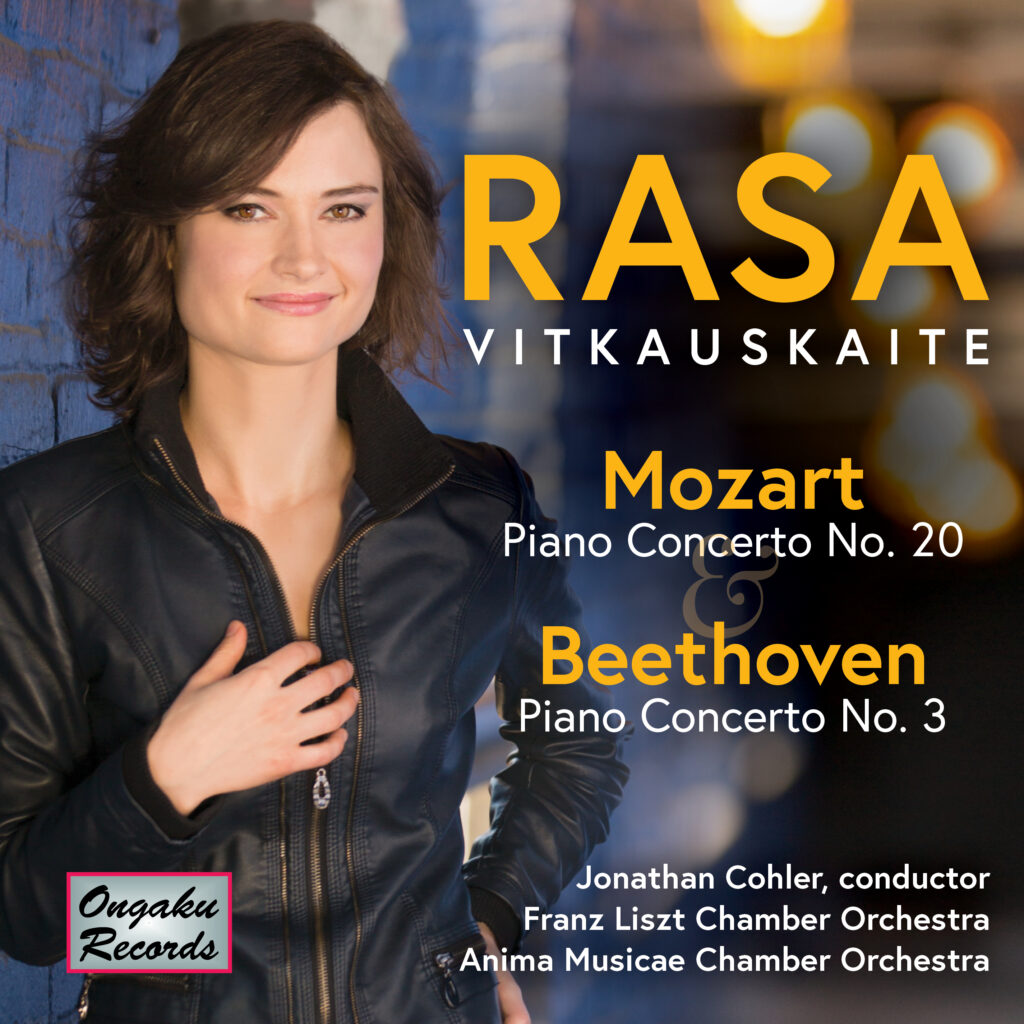 Winner of the Grand Prix at the Mendelssohn Cup Piano Competition in Italy, Rasa Vitkauskaite was recently named a Steinway Artist. She has won top prizes at numerous prestigious international piano competitions including First Prizes at Les Rencontres Internationales des Jeunes Pianistes (Belgium), the competition in Taurisano (Italy), and the Rubinstein Piano Competition (Paris). Other awards include the Westmont Fellowship at the Montecito International Music Festival in Santa Barbara, California, and a Kathryn Wasserman Davis $10,000 grant supporting a tour of Israel. Rasa has also won top prizes at six national competitions in her native country of Lithuania.

Recent recital tours have taken Rasa to China, South Korea, Venezuela, Brazil, Argentina, Italy, Mexico, Spain, Belgium, Hungary, and across the United States. Her solo engagements include the Budapest Sinfonia, Franz Liszt Chamber Orchestra, Anima Musicae, Kaunas, Latvian and Kaliningrad Philharmonic orchestras, I Solisti di Perugia, and the Boston Conservatory Orchestra. Last season featured her debut recording as soloist with orchestra performing Liszt/Weber Polonaise brillante recorded at the Hungarian National Radio. She has appeared at festivals in Assisi (Italy), Madrid (Spain), Mexico City, Caracas (Venezuela), Taiyuan (China), Porto (Portugal), and Moscow (Russia).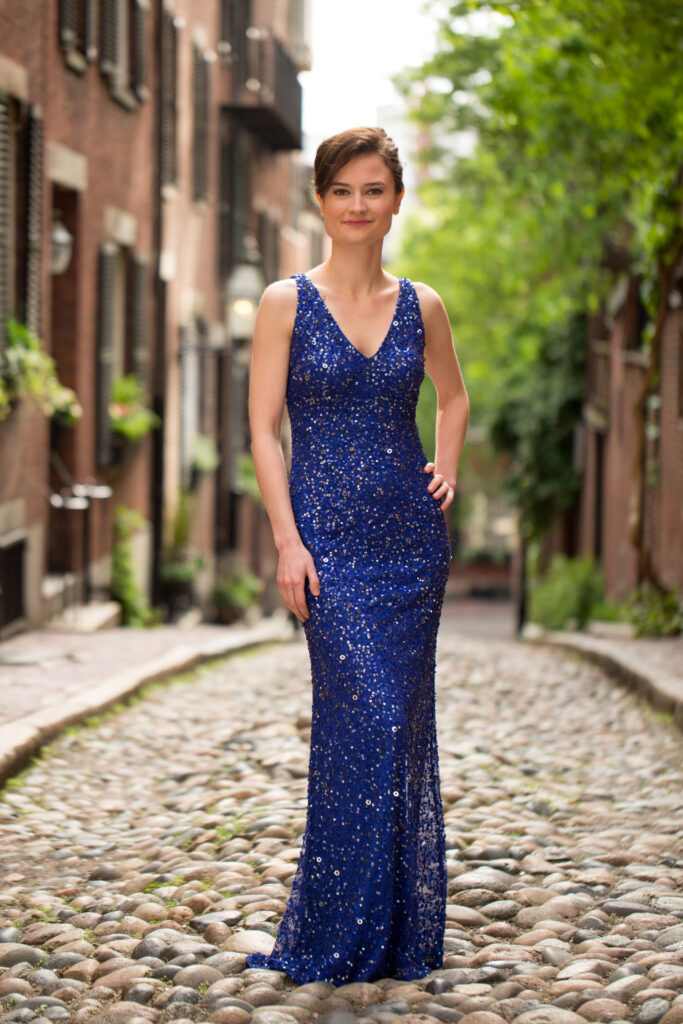 An avid chamber musician, Rasa performs regularly with world-renowned clarinetist Jonathan Cohler. The duo has recorded three critically acclaimed CDs – Rhapsodie Française, Romanza & American Tribute. She has also collaborated with world-renowned violinist, chamber musician and teacher James Buswell, cellist Julia Bruskin of the Claremont Trio, and long-time Cleveland Orchestra principal clarinetist Franklin Cohen among many others.
Having graduated from National M. K. Čiurlionis School of Arts in Vilnius, Lithuania and United World College of the Adriatic in Italy, Rasa completed her Bachelors and Masters degrees at the Boston Conservatory. Her teachers include Jūratė Karosaitė, Alberto Miodini, Michael Lewin and Randall Hodgkinson.

In addition to her active performing career, Rasa is a dedicated teacher and adjudicator. She teaches a large number of students at her private studio in Cambridge, MA, where she also offers lessons for Conservatory level pianists and college students. A frequent guest teacher, Rasa has recently given masterclasses, private lessons, and chamber music coachings at institutions and festivals around the globe such as Ohio University, University of Akron, National University of Rosario in Argentina, Carlos Gomes State Institute in Belém, Brazil, "Ciutat de Xàtiva" International Music Festival in Spain, just to name a few. Rasa is a highly sought-after adjudicator having most recently judged the Steinway Society Piano Competition, the University of Rhode Island Piano Competition, the Westfield State University Young Artist Piano Competition, and the Massachusetts Music Teachers Association Bay State Contest and Musical Achievement Evaluations, among others.
Rasa is the long-serving, critically acclaimed pianist of the Boston Philharmonic Orchestra, and the Meiningen Trio.
For more information, visit: http://rasapiano.com.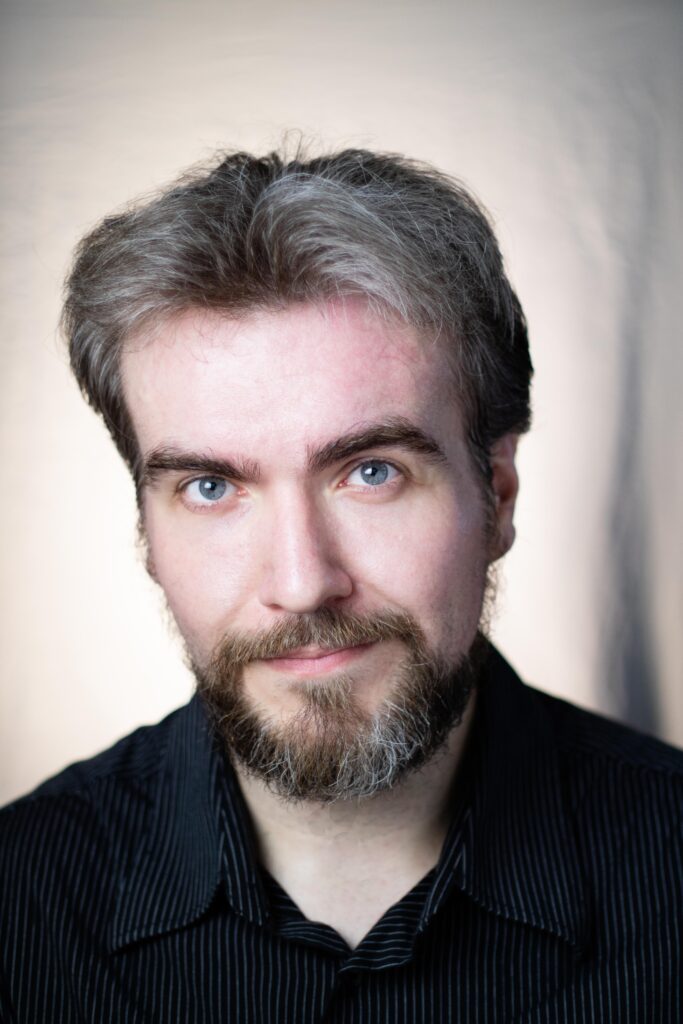 Aleksandr Polyakov is a Ukrainian-American pianist and conductor who is rapidly establishing an international reputation for his remarkable virtuosity, command of sonority, and communicative powers.
The winner of more than 20 international competitions, his notable prizes include third prize at the ninth International Liszt Competition (Netherlands), second prize at the sixth International Liszt Competition (Germany), and first prize at the Steinway Society Competition (Boston).
His numerous concerto performances include the Netherlands Radio Philharmonic under Jaap van Zweden, and the National Symphony Orchestra of Ukraine under Volodymyr Sirenko and Allin Vlasenko. In the United States he gave nine performances of Tchaikovsky's Piano Concerto No. 2 with the Boston Ballet Orchestra under Mischa Santora, and has had numerous performances with the Brockton and Newton Symphony Orchestras with James Orent.
In addition to his work as a pianist, Polyakov has an international conducting career. He is frequently guest conducting, leading opera productions and collaborating with vocalists. In Ukraine, he has performed both Liszt Concertos and Beethoven's Emperor while conducting from the keyboard. He has participated in conducting master classes with Harold Farberman and Riccardo Muti.
Polyakov is also a dedicated and sought-after pedagogue. He has taught at Music Fest Perugia and given masterclasses in the U.S., China and Europe. He often incorporates modern technologies in his teaching.
Polyakov was born in Kyiv, Ukraine, and studied piano performance and orchestral conducting at the Tchaikovsky National Music Academy of Ukraine. He earned his A.D. at Boston Conservatory at Berklee under the instruction of Michael Lewin.
___________
Thursday, April 29, 2021
HEEYEON CHI & VICTOR CAYRES
On Thursday, April 29, 2021 Boston Artists Heeyeon Chi & Victor Cayres will present a program of solos and duets by Dvorak, Liszt and Debussy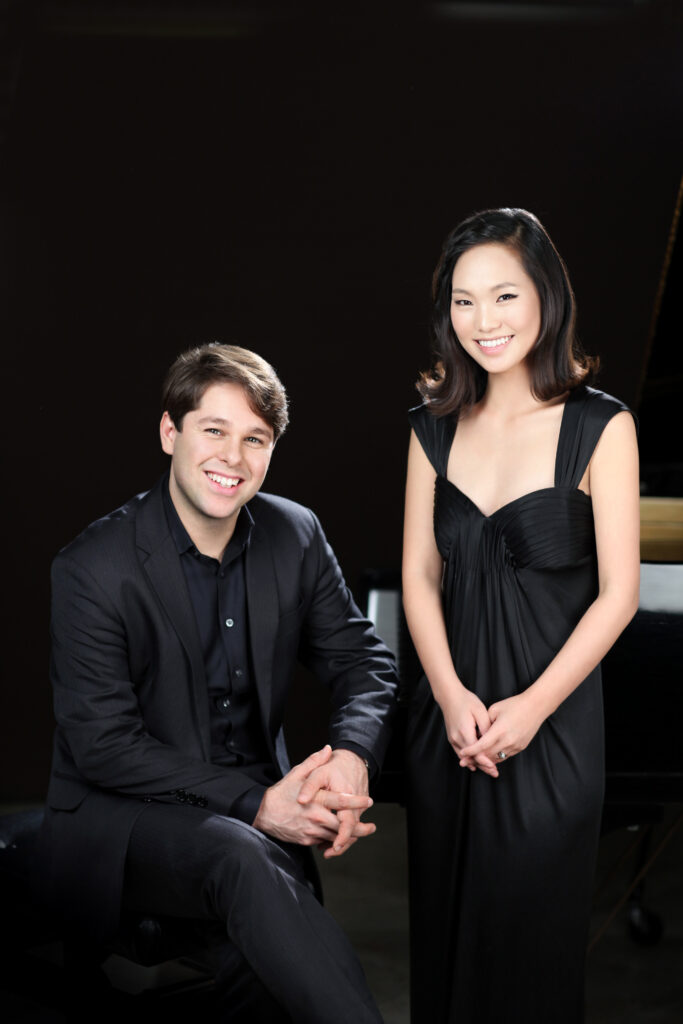 Korean pianist Heeyeon Chi has performed in Canada, Germany, Luxembourg, Russia, and in the United States, where she recently appear at Weill Recital Hall, Carnegie Hall. She has been awarded the Outstanding Performance Award from the Schulich School of Music at McGill University in Montreal, and the Piano Department Award from Boston University, as well as prizes at International Keyboard Odyssiad Festival & Competition, Brandshaw & Buono International Piano Competition, Canadian Music Competition, Burnaby Clef Society Competition, and Burnaby Concerto Competition. Highlights of her previous engagements include appearances as a soloist with the New England Repertory Orchestra conducted by Tiffany Chang, performances as an artist-in-residence at Banff Centre Arts Program as well as a guest artist at Interlochen Center for the Arts and Boston University Tanglewood Institute Young Artists Program, where she also had an opportunity to give a masterclass. While performing at the Chicago Piano Duo Festival in 2011 Ms. Chi was invited to coach young piano duo students in preparation for their recitals. Further appearances in festivals include the Vianden International Music Festival in Luxembourg, the Ruza International Piano Festival in Russia, the International Keyboard Festival in New York, and the Orford Music Festival in Canada. Ms. Chi had the privilege of performing in masterclasses for such pianists as John Perry, John O' Connor, Andre Laplante, Ian Hobson, Willem Brons, Atanas Kurtev, Maxim Mogilevsky, Stefano Miceli, Yong Hee Moon, Richard Raymond, and acclaimed Beethoven's scholar Lewis Lockwood.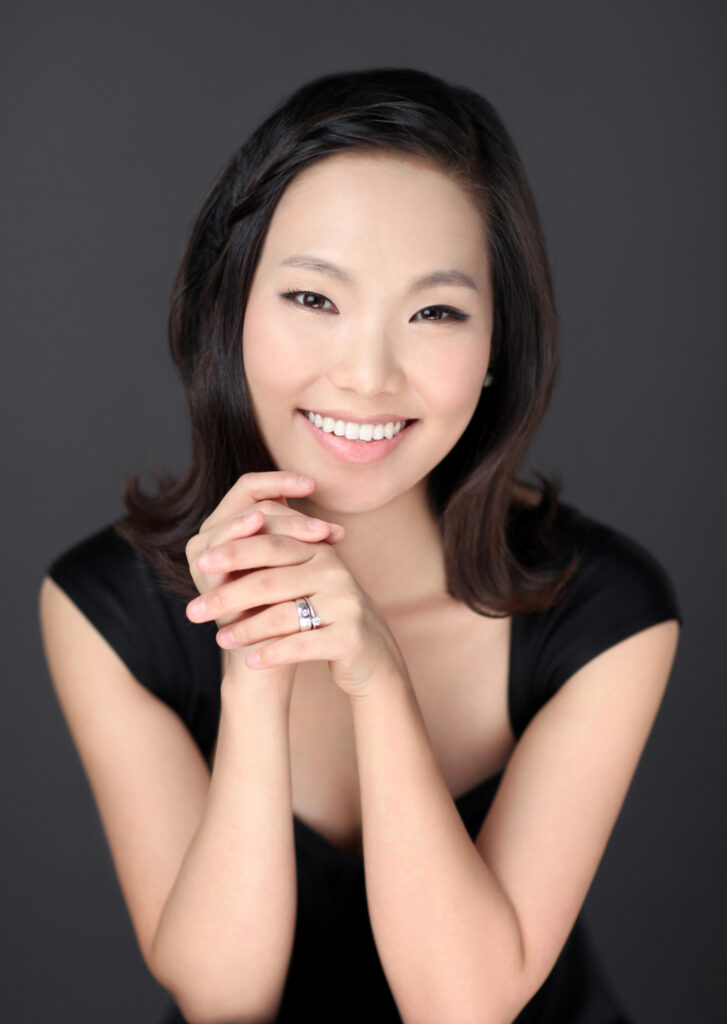 Ms. Chi started piano at age 4 at the Sun-Hwa Art School in Seoul, South Korea. In Canada she studied with David Bulmer and later with Marina Mdvani at McGill University, where she earned a Bachelor of Music degree as a recipient of such awards as McGill Entrance Scholarship, M.E. Choquette Scholarship, James McGill Award, and McGill University Scholarship. In the U.S. Ms. Chi studied with Victor Rosenbaum at New England Conservatory of Music in Boston, earning a Master of Music degree with Academic Honors, and a Graduate Diploma degree as a recipient of New England Conservatory's Entrance Scholarship. Ms. Chi completed the Doctor of Musical Arts degree at Boston University as a recipient of Boston University College of Fine Arts Scholarship, where she studied with Boaz Sharon.
In 2014, she has joined the piano faculty at New England Conservatory Preparatory School and Continuing Education in Boston.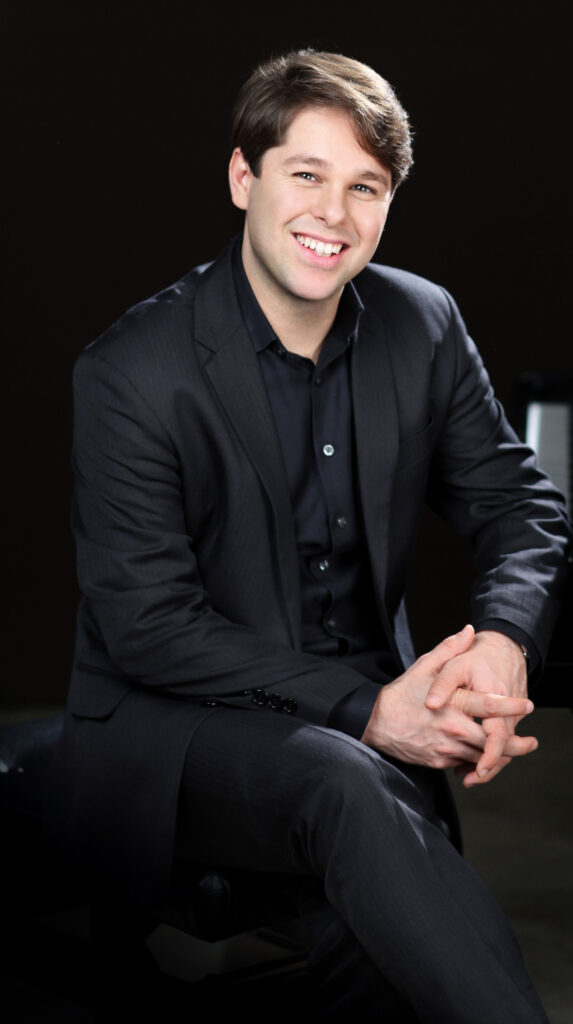 Hailed as "spirit of a leader!" by La Liberté (Fribourg, Switzerland), Brazilian pianist Victor Cayres has earned praise for concerts with the Sine Nomine string quartet and as soloist with such orchestras as the Boston Pops and Brno Philharmonic in the Czech Republic. He has been a guest artist at Banff Center for the Arts in Canada, Interlochen Center for the Arts, Boston University Tanglewood Institute, Claflin University, Western Washington University, and has released CDs for Albany Records, Parma Records, Centaur Records, with works by American contemporary composers David Owens, Joseph Summer, and John H. Wallace. Mr. Cayres frequently performs in Brazil, Europe, and in prestigious venues in the U.S., such as Weill Hall at Carnegie Hall, Boston's Symphony Hall and Jordan Hall, and Chicago's Preston Bradley Hall. His concerts have been broadcast live at Brazil's TV Cultura channel, Boston's WGBH 99.5 All Classical, and Chicago's WFMT Fine Arts Radio.
Victor Cayres has appeared as a soloist with the NEC Philharmonia, Sioux City Symphony Orchestra, Symphony Pro-Musica, Boston University Symphony Orchestra, Orquestra Petrobras Pró-Música, Orquestra Sinfônica Brasileira, Orquestra Sinfônica and Orquestra de Câmera at University of São Paulo, collaborating with such conductors as Ronaldo Bologna, Mark Churchill, Marc David, Ryan Haskins, Gil Jardim, Keith Lockhart, Norton Morozowisk, Donald Palma, Roberto Tibiriçá, and Jan Zbavitel. Under the direction of Theophanis Kapsopoulos he has toured Czech Republic and Switzerland with the Orchestre des Jeunes de Fribourg.
Mr. Cayres has gathered several prizes in national and international piano competitions, including the 8th Iowa Piano Competition, Boston University Concerto Competition and Richmond Piano Competition, 18th Leoš Janáček International Piano Competition in Brno (Czech Republic), Gina Bachauer South American Competition, Nelson Freire International Competition, Petrobras International Competition, Magdalena Tagliaferro Competition, Artlivre International Competition, as well as European competitions such as Sommerfestspiele Klavier Wettbewerb in Murten, Switzerland.
Mr. Cayres studied with Brazil's leading pianists: Roselys Alleoni, at the school of music Maestro Ernst Mahle, and Gilberto Tinetti and Eduardo Monteiro at the University of São Paulo. He also studied for one year at the Hochschule für Musik in Karlsruhe, Germany, while appearing in concert venues in Switzerland. He has performed in master classes for John O'Connor, Steve Drury, Philippe Entremont, Stephen Kovacevich, Dai Uk Lee, Ronan O'Hora, and John Perry, among many others. He currently serves on the piano faculty at New England Conservatory Preparatory School, Boston University School of Music, Eastern Illinois University, and also serves as Associate Director at Boston University Tanglewood Institute Young Artists Piano Program.
B.M., University of São Paulo, with Gilberto Tinetti and Eduardo Monteiro; independent studies at Staatliche Hochschule für Muzik in Karlsruhe, Germany; M.M. and G.D., New England Conservatory, with Wha Kyung Byun, chamber music with Richard Stoltzman; D.M.A., Boston University, with Anthony di Bonaventura; D.M.A Dissertation advisor: David Kopp, "The Piano Works by Leopoldo Miguez (1850-1902)."
---
Thursday, April 15, 2021
JAMES KIM
On Thursday, April 15, 2021 Young Artist James Kim will present an All Chopin Program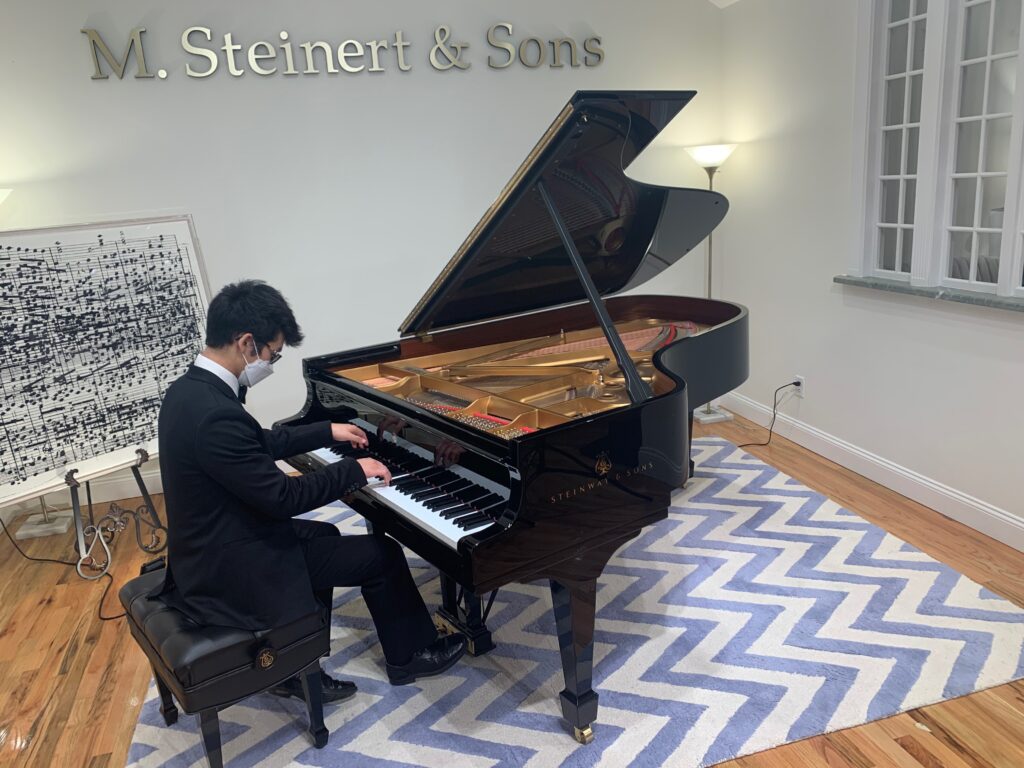 Seventeen-year-old pianist, James Kim has performed extensively throughout the United States. He made his national debut at the age of 9 when he performed a concerto with the Palisades Symphony Orchestra and later appeared with concert pianist Lang Lang on the Tonight Show hosted by Jay Leno. James has been a winner of many local, regional, and international competitions, including 1st place finishes in the 2015 Los Angeles Young Musician International Competition, the Statewide Kathryn Gawartin Chopin Competition, and the Glendale Piano Competition. He was also selected as a finalist for the 2018 Fidelity Investments Young Artists Competition, the 2019 Waring International Piano Competition, the 2019 Kaufman International Piano Competition, and the 2020 New York International Piano Competition. In addition, James has been recognized with multiple scholarships from the Westside committee of the Los Angeles Philharmonic, SOL-LA Music Academy, and the Chopin Foundation of the US.
James began his piano studies at the age of five under Anders Martinson, a Gilmore Foundation Young Artist Awardee. Since moving to Lexington, MA in 2016, James has studied under Max Levinson, Chair of the Piano Department at Boston Conservatory. He currently is a senior at the Walnut Hill School for the Arts in Natick, MA and participates in the Piano Seminar at the New England Conservatory Preparatory School. In the future, James hopes to further his concert career and travel the world whilst performing, experiencing different foods and cultures, and meeting musicians from around the world.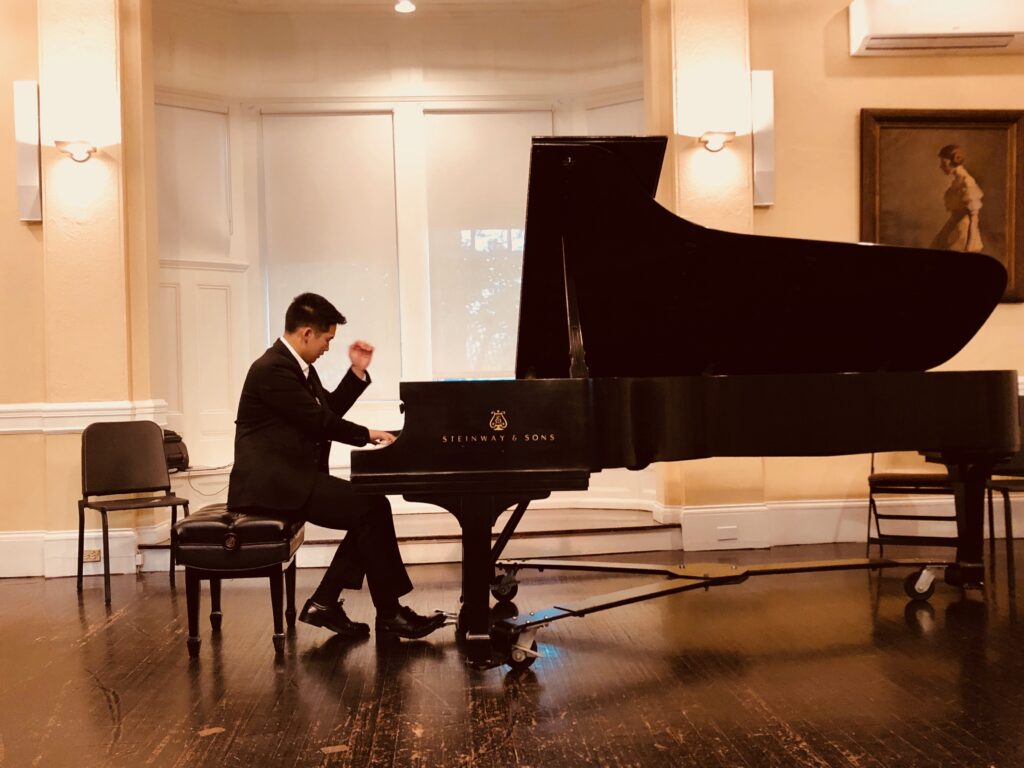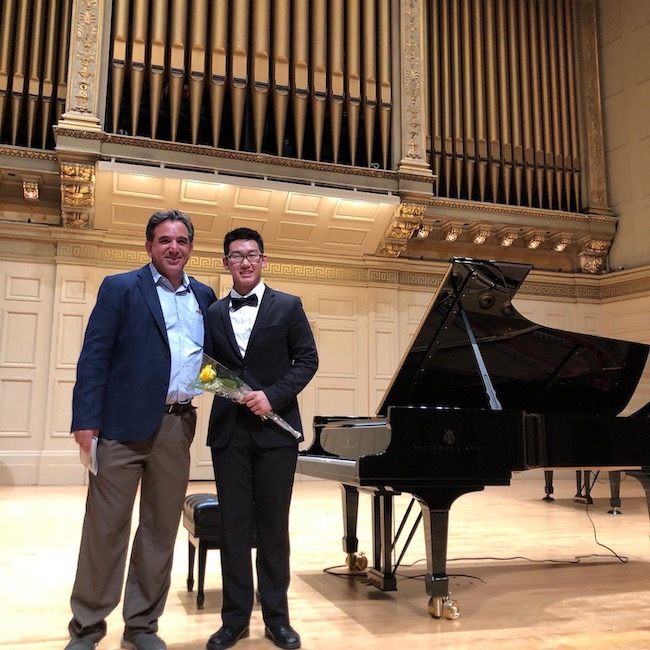 ___________
Thursday, March 25, 2021
TANYA SCHWARTZMAN STUDIO CELEBRATION
On Thursday, March 25 we are celebrating the accomplishments of master teacher, Ms. Tanya Schwartzman.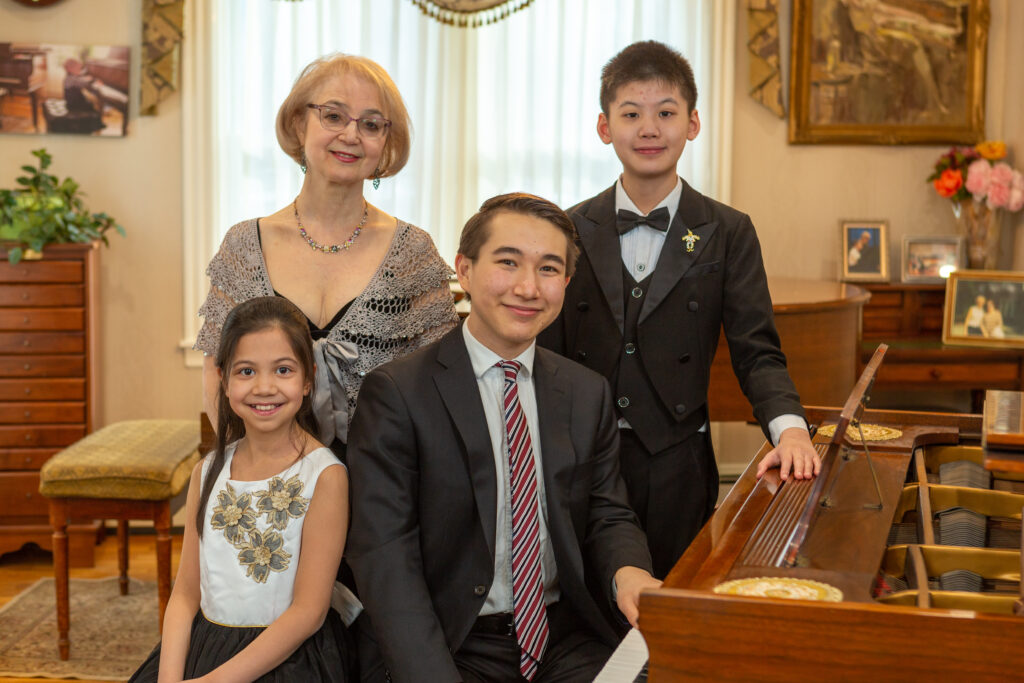 In celebration of Ms. Schwartzman's accomplishments, we have invited three of her students to perform on this evening's concert. They are in the order of appearance, Ms, Sophia Popescu, 9, Master Ian Lin, 11, and Mr. Michael Karshis 16.
Photos of Ms. Schwartman's Studio by Kenneth Berman Photography (781) 784-9600
www.kennethbermanphoto.com
Tanya Schwartzman is the Music Director of the Sharon Music Academy, which she founded in 1990. She is a Nationally Certified Teacher of Music in Piano, Master Teacher of the World Piano Competition, Steinway Educational Partner, and a faculty member of several international summer music programs. Ms. Schwartzman holds an Masters Degree in Music Education from the prestigious Novosibirsk Conservatory (Russia) and conducted postgraduate studies at the Moscow Pedagogical University, where she subsequently taught piano pedagogy to future piano teachers. She is the author of several articles in the field of Music Theory and Pedagogy and the book "Klever Keys Scales – piano scales for the early beginner." Among her students are many winners of local, national, and prestigious international piano competitions, including the International Young Artists Competition in Washington, DC, Manchester Young Artist Competition in Connecticut, Young Promise International Music Competition, and Paderewski International Piano Competition. Tanya's students have been selected to perform in Holland, Switzerland, Belgium, and France and on the famous stages in US, such as Carnegie Hall in New York and John. F. Kennedy Center for the Performing Arts in Washington, DC. Her students have been featured in the popular PBS TV show "From the Top" and in WGBH radio show with Cathy Fuller. Tanya is the former Vice-President of MMTA and is a board member of the New England Piano Teachers Association. She is frequently invited to serve as a judge at various piano competitions. In 2017 and 2020 Ms. Schwartzman became a recipient of the "Top Teacher of the Year" Award from Steinway & Sons.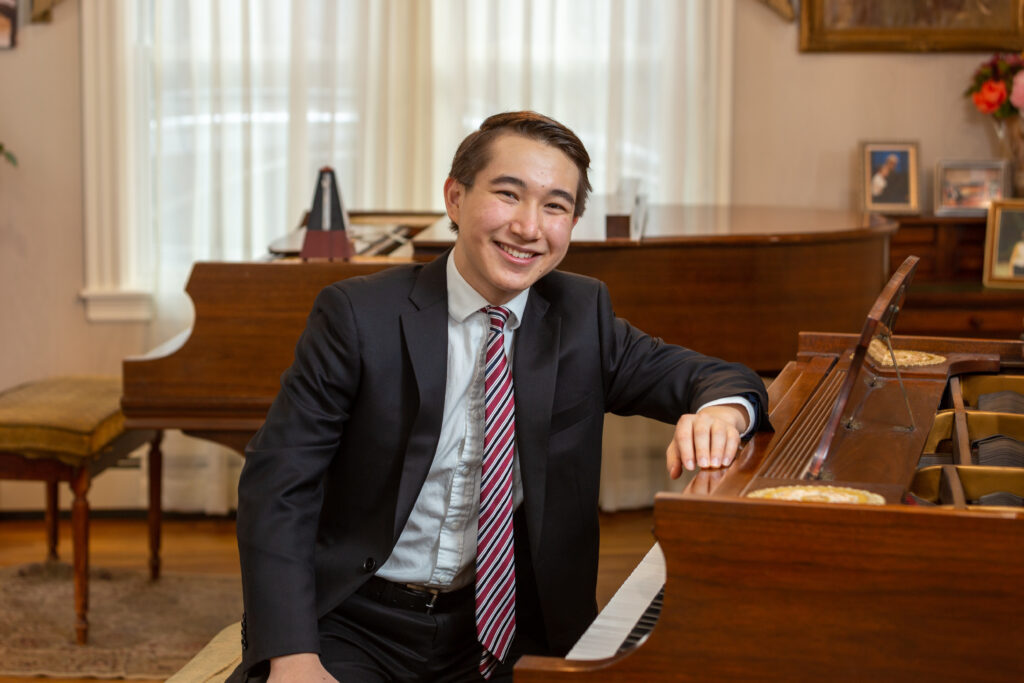 Michael Karshis is a 16-year-old piano student of Ms. Tanya Schwartzman at Sharon Music Academy. He is currently a Junior at Xaverian Brothers High School with a trustee scholarship and is a piano tutor and assistant at Sharon Music Academy.
Mr. Karshis has performed in the Washington D.C.'s Kennedy Center's Millennium Stage Hall as the first place winner of the 33rd International Young Artist Competition, Puerto Rico. He has performed at the Kurozwęki Palace in Poland, at Carnegie Hall in New York City and Symphony Hall Boston.
He is a 2nd place winner of the 2020 New England Piano Teachers Association, 6 time first-place at Bay State Competition, 3rd prize winner of the Chopin International Piano Competition, and a 2nd prize winner of the 2020 Steinway Society Piano Competition. In addition, he has been involved in several productions of short films and music videos with the popular show "From the Top."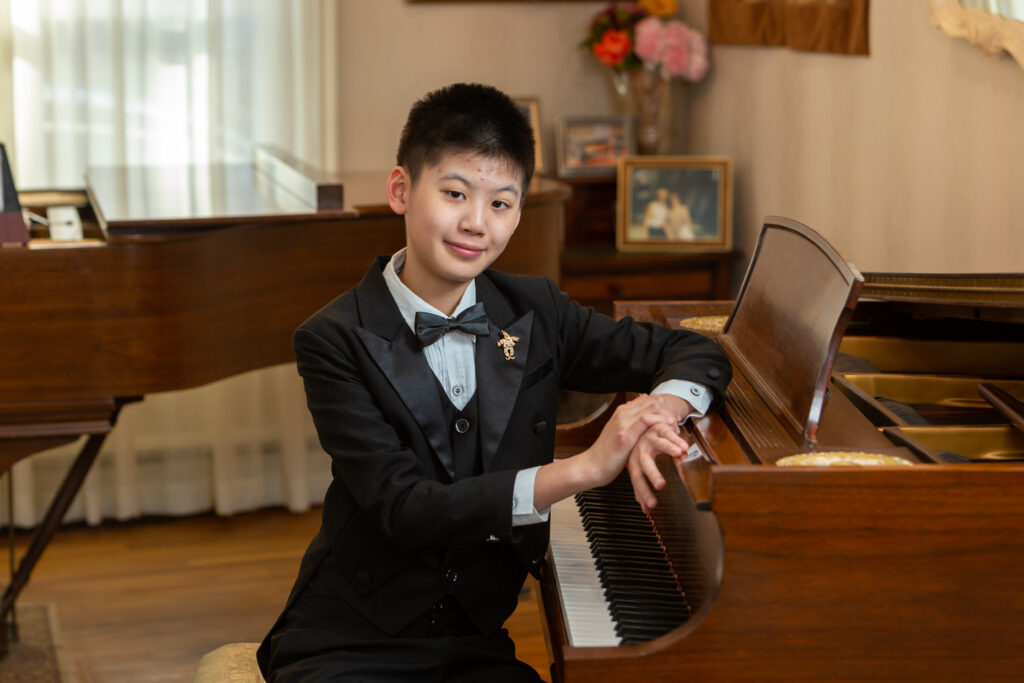 Ian J. Lin is from South Kingstown, Rhode Island. He is 11 years old and a 7th grader at Curtis Corner Middle School. Ian is a pianist, a composer and a violinist. He studies piano with Ms. Tanya Schwartzman, the director of Sharon Music Academy, and winner of many outstanding teacher awards. an has won many piano awards and music composition awards. Most recently, he was the 1st Place Winner in Division 1 of the 2020 Steinway Society Piano Competition. He has performed at Carnegie Recital Hall, and at Symphony Hall Boston. He gives solo concerts at local nursing homes every year around the Holiday season and in the springtime. He currently studies composition under Dr. Stephen Halloran, faculty member at the Boston Conservatory and the head of the composition department at Rivers School Conservatory in Weston, MA. He studies violin under Dr. Alexey Shabalin, a member of the RI Philharmonic Orchestra.
At the age of 5, he was accepted as a Davidson Young Scholar at Davidson Institute for Profoundly Gifted Children. Besides music, Ian enjoys tennis, basketball, math, robotics, and science.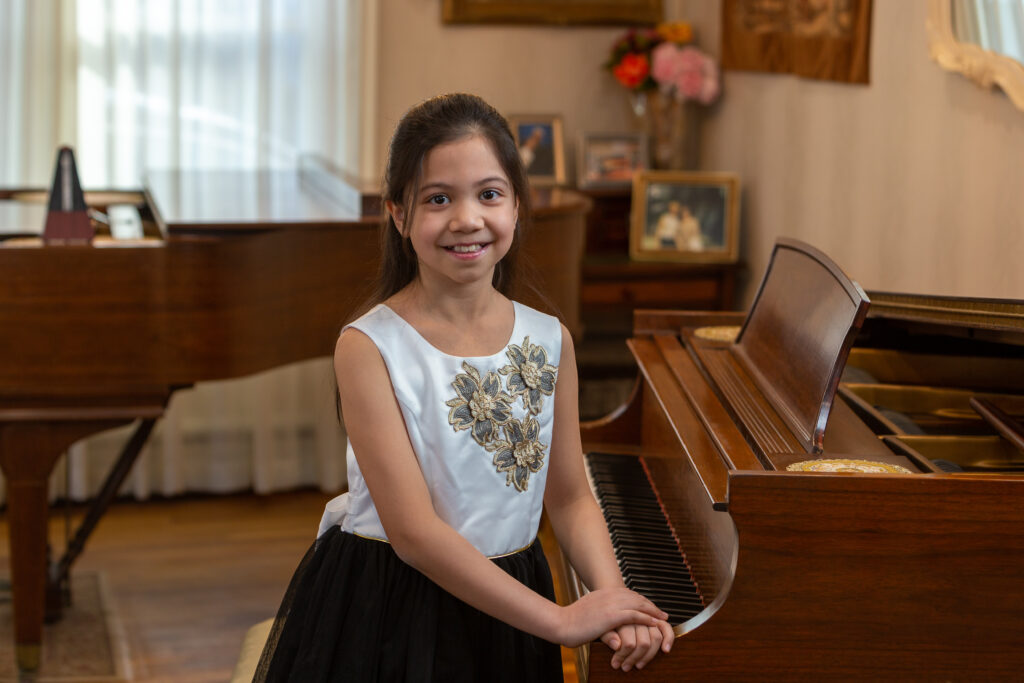 Sophia Popescu is a nine year old 4th-grade student at East Elementary in Sharon, Massachusetts. She has been studying piano with Ms. Tanya Schwartzman since she was five years old. Sophia loves music, loves performing, and learning about music. She loves challenges and has been participating in piano competitions since age six and in Rhythmic Gymnastics competitions since she was seven. Sophia has won multiple awards, including 3rd place at the 2020 Steinway Society Piano Competition, 1st place at the IV Paderewski International Piano Competition, 2nd place at the International Young Artist Piano Competition, and 1st place at the MMTA 51st Annual Bay State Piano Competition. Outside of playing piano, Sophia is active in sports. She is currently a Level 5 Rhythmic Gymnast. In her spare time, Sophia enjoys singing, reading, and drawing
---
Thursday, March 11, 2021
DUO AMIE
On Thursday, March 11 Duo Amie – Ellyses Kuan, pianist and Julie Reimann, cellist will present their program – Songfest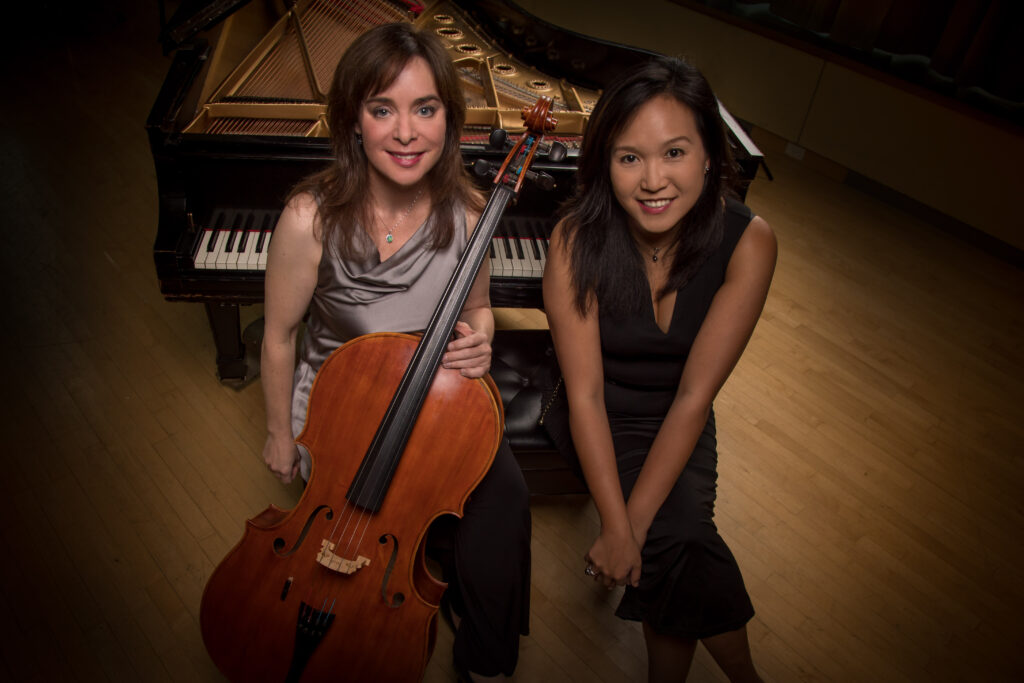 About Duo Amie…
Duo Amie is a cello & piano duo dedicated to inspiring and bringing diverse people together with programs that capture the imagination through musical expression and visual thematic elements, and to supporting the mission of non-profits by organizing and performing benefit concerts.
A native of Hong Kong, Ellyses Kuan began playing piano at age 3. She received a full scholarship for her master's degree, studying with Barry Snyder at Eastman School of Music, and was selected to represent Hong Kong at the International Kirishima Music Festival, Japan. As a soloist and chamber musician, she has performed throughout the United States, and in Canada, Japan and Hong Kong, and in 2017 performed at the 42nd Annual Classical Music Festival at Esterhazy Schloss (Austria). Ellyses is also founder and music director of EKS Music School (Quincy, MA). Her goal is to build community, promote performing arts awareness, and support local young musicians through advocacy and performances (including through a music scholarship fund for students in need, at her school). In 2014, she was an invited panelist on the Boston Guitar Fest Roundtable on Making a Career in Music Work, and her school was featured in the Boston Globe the same year. In 2017, she was an invited speaker at the Piano Seminar Teacher's Roundtable at the Eisenstadt Summer Academy. She received a Steinway & Sons Top Music Teacher award 2 years in a row (2017 & 2018) and is also immediate past president of the Massachusetts Music Teacher Association.
Julie Reimann started playing the cello at age 9, and was a student of Aldo Parisot, performing throughout the United States, Canada, and Brazil, and winning a number of competitions, including Gold Medal (New Haven Youth Symphony Young Artists Competition), 1st Prize (Connecticut Chamber Orchestra Young Artists Competition), and 2nd Prize (Fischoff National Chamber Music Competition Junior Division). She earned her Bachelor of Music degree from Curtis Institute of Music, studying with David Soyer. During Curtis, Julie performed in the Nationale Academie de Violoncelle in France, Banff Music Festival, Rencontres Musicales d'Evian, Musicorda Music Festival, and Norfolk Chamber Music Festival, and won 1st Place in the Alliance Auditions National Music Competition. Julie graduated from Bryn Mawr College's Post-baccalaureate Premedical Program, and received the Horace Alwyn Prize for music there. Julie continued to perform recitals while pursuing her M.D. and Ph.D. in Biophysics, at Stanford University, and during her residency and fellowship in Boston. She continues to perform as a soloist and chamber musician in various venues, including as soloist with the Waltham Symphony Orchestra (2016), soloist with Longwood Symphony Orchestra (2018), and as a guest artist with Boston Music Institute, and Lyra Music Festival. She is also a dermatopathologist in the Boston Area, and Assistant Professor at Harvard Medical School.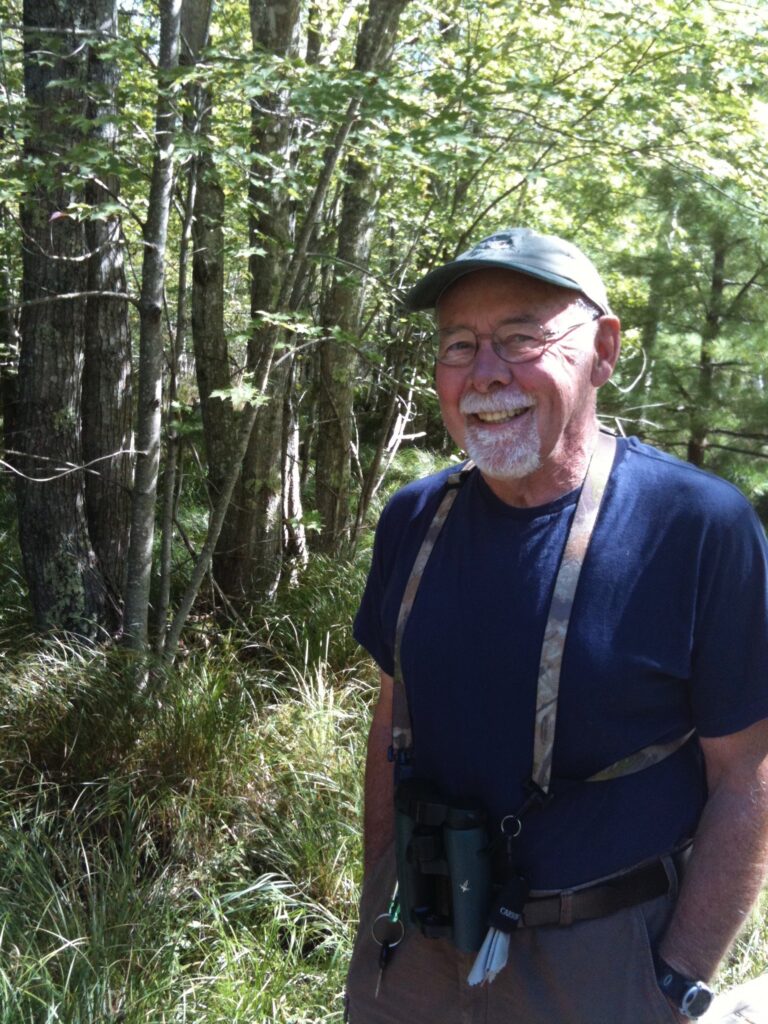 This performance by Duo Amie is dedicated to Richard (Dick) Regan, beloved father of cellist Julie Reimann, who passed away in 2019. The son of Irish immigrants and a lifelong educator and learner, he was a high school chemistry teacher for over 30 years. Dick had a generous heart, cherished nature, and loved music, a gift he shared with his daughter Julie. He loved many different varieties of music, inspiring the duo to create this Songfest spanning multiple musical genres.
---
February 11th, 2021
Sonya Ovrutsky Fensome
On Thursday, February 11th, Sonya Ovrutsky Fensome Performed program of Bartók and Lecuona.
M. Steinert and Sons' Artist-in-residence, and director of the Piano Academy since 2014, Sonya Ovrutsky Fensome is an internationally acclaimed concert pianist, known for her fresh, imaginative, and passionate interpretations. Her extraordinary artistry brings new life to a wide array of piano repertoire – from Baroque to the 21st Century.
In 2020, Sonya's journey has taken her to performing, recording, and teaching from her own piano room in the Boston suburbs, where she lives with her husband and son. 2020 has changed all our lives – and yet, the music goes on with musicians around the world finding new ways to share it. Sonya's new YouTube project "From My Piano Room" takes listeners
into her world of music. Behind each tune there's a story, and behind each composition there's a mind and soul of a person who created it, the people and events that inspired and influenced it, and the history and culture surrounding the piece. When you immerse yourself in the world behind the music, listening to music becomes a much richer experience, you form a deeper connection with what you're hearing.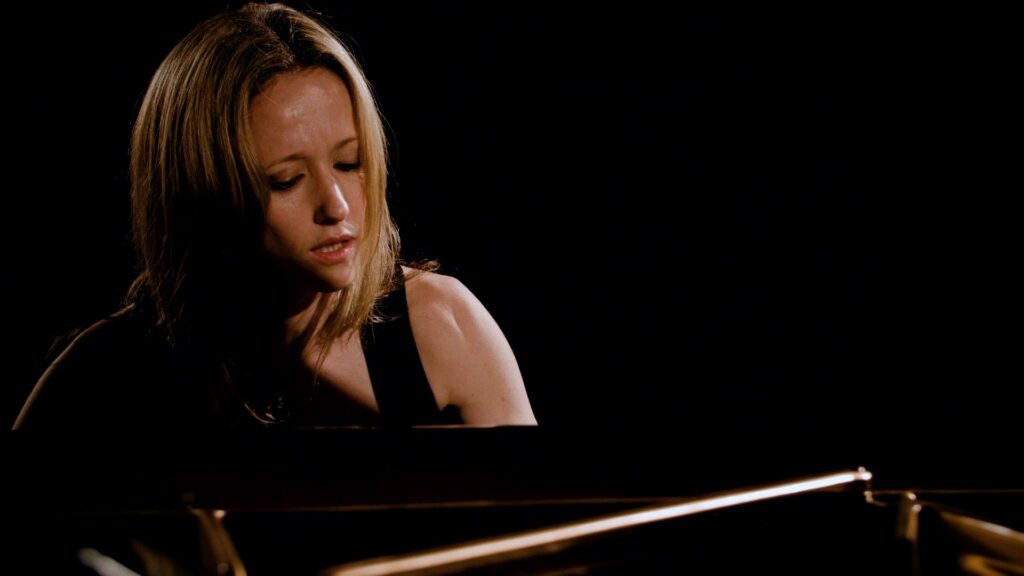 Sonya's first teachers were her mother and father, Alexandra and Ilya Ovrutsky, who met while studying at the Tchaikovsky Conservatory in Moscow. Learning music at the earliest age. Sonya first performed in public for her friends at preschool at age 5. As a child and early teenager, Sonya continued her study at the Moscow School for Gifted Children (Tchaikovsky Conservatory Pre-college). At age 15, she gained world recognition upon winning the International Piano Competition in Senigalia, Italy, and was consequently invited to study at the Juilliard School of Music as a full scholarship recipient. There she earned her Bachelor's and Master's Degrees in piano performance, studying with legendary professors Herbert Stessin for piano and Felix Galimir for chamber music.
Ms. Ovrutsky Fensome has performed in major venues in the United States, Europe, Russia, and South Africa – including Weill Carnegie Concert Hall, Lincoln Center in NY, the Kimmel Center in Philadelphia, Aspen Music Festival, Palace de Beaux Arts in Brussels and the Lucerne Music Festival. She performed as a soloist with the Aspen Festival Orchestra, Reno Philharmonic, and Neuchatel Festival Orchestra in Switzerland. She has performed in recitals with world renowned musicians including Sarah Chang and Vladimir Spivakov, and continuously collaborates with her brother Mikhail Ovrutsky. Earlier in her career she worked as a collaborative pianist in the master classes and private lessons of professors Zakhar Bron, Dorothy DeLay, Mauricio Fuks, Itzhak Perlman, Vadim Repin, and Pinchas Zukerman. Her numerous competition awards include the Aspen Music Festival Competition and Concert Artist Competition in New York. Her duo CD with Mikhail Ovrutsky "Turning Points" recorded for Berlin Classics® has earned outstanding reviews and was selected as "CD of the Week" by RBB Kulturradio. Sonya's YouTube channel and her project "From My Piano Room" is quickly growing and getting support and recognition.