Lisa Cleveland
Dr. Lisa Cleveland is currently the Assistant Director of Education at Indian Hill Music in Littleton, Massachusetts. Prior to joining the school in 2014, she served as the Chair of the Fine Arts Department at St. Anselm College, held teaching positions at UMass-Lowell and St. Paul's School, and had maintained a private piano studio for over twenty years. Her students have received numerous awards for their performances and studies at the state and regional levels, and have pursued professional careers in music at the collegiate level.
When she was actively performing, Dr. Cleveland appeared as a soloist both nationally and internationally including tours in Austria, Switzerland, Germany, Italy, Canada, and the United States. She has given the American premiere of works by Marilyn Ziffrin, Lukas Foss, and Gary Daverne, and has been featured in artist series at Northwestern University, American University, and the Old North Church in Boston. Dr. Cleveland has also been a guest lecturer and presenter at music festivals and conferences, and has adjudicated local, state, regional, and national competitions throughout the United States.
Dr. Cleveland received a Bachelor of Music degree in Performance from the University of Missouri-Kansas City Conservatory of Music, and also earned a Master of Music and Ph.D. in Music Theory from Northwestern University. She has been a member of the Music Teachers National Association and served as Chair of the MTNA Junior High School Competitions, and has also been a member of the New Hampshire Music Teachers Association where she has served as President, Treasurer, and Chair of the Granite State Auditions. Other memberships include the Massachusetts Music Teachers Association, College Music Society, Society for Music Theory, Society for American Music, New England Conference of Music Theorists, New England Piano Teachers Association, and Sigma Alpha Iota.
Michael Kramer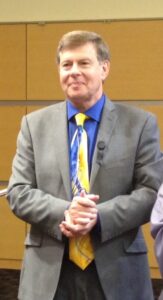 Michael Kramer, pianist, has always been in great demand as a performer. He has concertized extensively throughout the United States and Europe. Early on in his career, Mr. Kramer was selected as a music ambassador by the United States State Department to present concerts throughout Europe. He has been a piano recitalist and soloist with many orchestras in the United States and Europe. He performed numerous concerts in England, France, the Netherlands, Slovakia, and Germany. While on tour, he was commissioned for a series of performances and recordings with the Slovak Radio Symphony Orchestra of Bratislava.
While at Boston University, Mr. Kramer was invited by the internationally acclaimed pianist Anthony di Bonaventura to present a centennial concert commemorating the birth of Zoltán Kodály in Boston. In gratitude, Mr. Kramer received a special prize from the family of Zoltán Kodály for his interpretation of the composer's works. Later, Mr. Kramer was invited to present a concert in honor of the 150th anniversary of Béla Bartόk's birth.
As a guest artist and piano faculty member for ten years at the Boston University Tanglewood Institute in Lenox, Massachusetts, Mr. Kramer had frequent solo and chamber music performances with Boston Symphony Orchestra members as well as numerous appearances with the Boston Symphony Orchestra. His many credits include performances and world premieres of piano solo and chamber works, and concertos of many contemporary composers, including Luciano Berio, Bernard Rands, William Thomas McKinley, and Ellen Taaffe Zwilich, to name a few. At the age of 24, he made his Carnegie Hall debut in New York, following which the New York Times said "The confidence with which he handled such a proving ground as Schumann's Symphonic Etudes put him in the virtuoso class… marvelously lucid playing."
A prize winner in many competitions, including the prestigious Ann and Aaron Richmond piano competition, Mr. Kramer's many accomplishments led to an invitation by world-renowned impresario Walter Pierce to present a series of concerts. As a chamber musician, he was a member of the Boston-based Equinox Ensemble. For his extensive concert appearances throughout the United States, he has received numerous awards and tributes, including the Keys to the City of Fort Lauderdale and the Degree of Chevalier, the highest honor offered by the Order of DeMolay International.
Professor Kramer has held many faculty positions, including Boston University, University of Massachusetts, Northern Essex Community College, and Bentley University. Mr. Kramer was offered a teaching position and invited to present a series of master classes at the Yamaha Piano School in Singapore. He has collaborated with such pianists as Anthony di Bonaventura, Ursula Oppens, Susan Starr, and Evelyn Crochet. Recently he has been guest artist at the NECC Summer Music Festival.
Mr. Kramer completed his Masters and Doctoral work in piano performance at Boston University, where he studied with the distinguished pianist Anthony di Bonaventura. He also holds Bachelors and Masters degrees in Mathematics.
Konstantinos Papadakis
Born in Heraklion, Crete, Greece, Konstantinos Papadakis consistently earns critical acclaim as a solo and collaborative pianist. He has performed recitals and has collaborated with chamber ensembles and orchestras in the world's major concert halls and famous artistic centers, such as London's Wigmore Hall, Boston's Jordan Hall, the Athens Megaron Concert Hall, New York's Carnegie Hall, and St. Petersburg's Grand Concert Hall, where he gave world premieres of works by Greek and Russian contemporary composers.
A versatile performer, Papadakis has recorded several works especially written for him by contemporary composers, many of which have been broadcast on radio and television. He has made repeat solo appearances with Boston's Atlantic Symphony Orchestra, where he also holds the prestigious Motoko and Gordon Deane Principal Chair as the Orchestra's pianist. Other distinctions include the prestigious Yannis Vardinoyannis Award, as well as awards at international piano competitions. He is a pianist of exceptional technical ability whose playing has been described as "stunning … [Papadakis] displayed great variety of attack, poetic lyricism, and wrists of carbon steel" (The Boston Globe).
Equally at home performing Bach's English Suites or Ligeti's Etudes, Papadakis possesses an unusually broad repertory, including some 70 concertos and over 300 works for solo piano, in addition to numerous chamber works. Commemorating the bicentennial year of Franz Liszt's birth, in 2011 Papadakis embarked on an ambitious cycle of recitals of some of Liszt's shorter and less known works. In the spring of 2011 he recorded a new and unique CD of 16 miniature Liszt pieces entitled The Short Liszt (D.S.H., 2012).
Papadakis is an alumnus of Boston University's College of Fine Arts, where he studied with Anthony di Bonaventura. He graduated in 2000 with an Artist Diploma in Piano Performance and he also received that year's Esther & Albert Kahn Career Entry Award. Soon thereafter he was invited to join Boston University's piano faculty where he taught for several years. Between 2006 and 2011 Papadakis was the "Samuel Barber Artist-in- Residence" at West Chester University in Pennsylvania. He re-joined the piano faculty of Boston University's College of Fine Arts from 2011-2019. Currently he is on the piano faculty of the New England Conservatory's Pre-College and Continuing Education Division. He also directs the Summer Piano Academy in Athens, Greece.
www.kpapadakis.com